Summary
Sample showing how to integrate Power Automate into a web app. Users can create new flows from a template, approve, invoke certain type of flows
Here is the sample in action: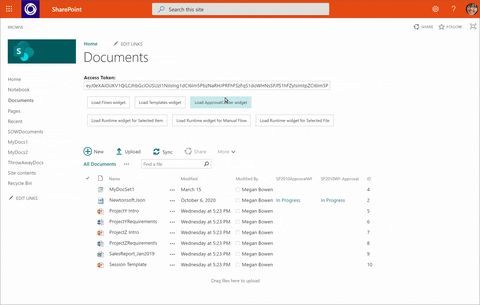 Note that depending on the user community interest I will further expand on this blog post by explaining in detail on how to add to SPO site.
Pre-requisites
Node
Register AAD application with Implicit grant enabled.
Configure and run the sample Applicaton
Open index.html under FlowWidgetSPA
Modify 'clientID' property in applicaionConfig object to point to AAD application registered.
Sample app is configured to user Flow scopes Flows.Read.All and Flow.Manage.All additional scopes can be added by updating flowScopes property in applicationConfig object.
Open command prompt and go to folder FlowWidgetSampleApp
Run "npm install" to install the dependencies.
Run "node server.js" to start the application.
Open browser and type http://localhost:30662
Select "Sign In" button to authenticate to AAD and acquire flow access token.
You will notice that access token text box is populated with the access token.
Select Load Flows widget or Load Templates widget to embed the widget.
You can experiment with various widget settings by modifying the javascript methods loadFlowsWidget() and loadTemplatesWidget().
Hope that helps!